Opening Information
Open daily for Lunch and Dinner
Facilities
Disabled Access
Dogs Welcome
Free WiFi
Gluten Free Available
About Porter & Rye
Fine dry-aged meats & classic mixed drinks.
Molecular cooking & small plate dining.

Cuisine:
Small Plates

,

Steak

,

Fine Dining
Availability
Available Offers
This offer has price variations on different days.
View full details
.
Description
Available Dates
This reservation cannot be modified online. Please contact the restaurant directly to update this reservation.
Edit / Cancel Reservation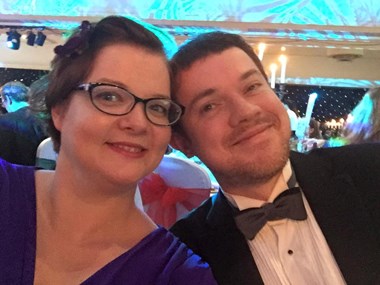 Review by Emma - of Food and Drink Glasgow
Part of Kained Holdings, the innovative team behind The Finnieston, Lebowskis and Crafty Pig; Porter & Rye is a meat filled jewel located in the middle of the Finnieston strip. We booked in advance as it's not the biggest and always very busy when we pass by. The well-stocked bar stands out on arrival and this is one of the few places in Glasgow where you can have a glass of Rye Porter from WEST brewery, walk past the bar and it's meat eaters' heaven. A huge dry-aging cabinet is filled to the brim with hunks of beef and prime cuts at that: Onglet (Hanger), Rib Eye, Chateaubriand and Porterhouse. We dragged ourselves away from the display of meat to our table and made our choices. The vibe here is cosy and intimate; small tables with subdued lighting and a stripped-back interior. An amuse bouche of Smoked Haddock beignet (small fritters) with a lemon emulsion arrived quickly and was like superstar scampi: plump smoky fish with a tart lemon sauce for dipping. We cleared the plates quickly- a trend that would prevail well into the night! Sweet doughy bread and salted butter came next and was devoured before the starters could arrive. The Starters: Grilled Scottish Langoustine with braised sticky pork belly, apple and vanilla purée with thyme-compressed apples first, and thankfully no wrangling with langoustine shells was required. The moist and sticky sweet pork belly was delicious with the crisp thyme apples, an excellent pairing. Our other starter was a huge bowl of Ox Broth served with a couple of mini cheese scones. This was a rich beefy broth with threads of meat, full of flavour which begged for the scones to be dipped in. Before the main event, it was time to pick our implements: a selection of steak knives of differing styles and sizes was presented – serrated, full metal or a wooden handle? The choice is yours! he main event we opted for the Porterhouse menu choice which comes with two sauces and two sides. The Porterhouse: a 54 day-aged beauty from Tom Rodgers butchers, aged in-house. It's a great cut, providing two types of steak, tenderloin and strip steak. We left it to chef to cook as he recommended; it came chargrilled on the outside, pink and moist on the inside. For the sides we chose beef dripping chips and Brussels sprouts, kale and lardons. We regret not ordering two portions of chips- as they were perfect. The earthy sprout/kale /lardon combination was delicious too, but beef dripping chips dipped into our sauces were to die for. The sauces: a classic béarnaise and a smoked oyster with roast garlic emulsion. The smoked oyster sauce was creamy with an anchovy saltiness accompanied by the welcome taste of garlic. We finished our mains and thought we might need to call it quits...however the siren song of dessert came calling. The peanut butter and banana crème brulee arrived at the table flambéd. It was creamy, full of peanut butter, with a crunchy sugar topping and served with a huge soft cookie. The hot toddy cheesecake with the accompanying clementine flavoured whisky was a bold choice, but proved ideal for the cold night we visited. Service was friendly and attentive and a great meal was had. We would certainly recommend booking here as it's a busy restaurant in a popular area. Ease of booking: 5/5 Service: 5/5 Quality of food: 4/5 Quality of drinks: 5/5 Atmosphere: 4/5