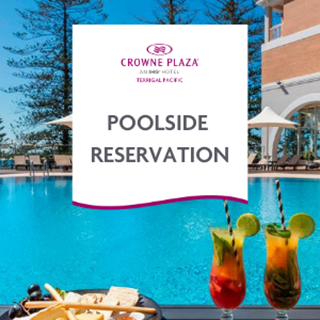 About Poolside at Crowne Plaza Terrigal Pacific
Reservations for Poolside at Crowne Plaza Terrigal Pacific.
The pool will be open in line with government restrictions, which includes limiting the number of guests in the area and access will be subject to availability. In some peak periods, your use of this area will be limited to a two hour session to ensure CovidSafe practices are followed. At this stage, the spa, steam room and sauna remain closed due to restrictions.
Availability
Available Offers
This offer has price variations on different days.
View full details
.
Description
Available Dates
This reservation cannot be modified online. Please contact the restaurant directly to update this reservation.
Edit / Cancel Reservation