Facilities
Disabled Access
Private Dining
Families and Children Welcome
Children's Menu available
Gluten Free Available
About Ox and Finch
Ox and Finch is a hugely-popular restaurant in the Kelvingrove/Finnieston neighbourhood that has added a new dimension to the quality dining arena in Glasgow with its relaxed, sharing concept of contemporary dining; simple, seasonal and ingredient-led menus which combine big, bold flavours with global influences; a great wine list and friendly, attentive service.

Awarded a 'Bib Gourmand' in The Michelin Guide to Great Britain and Ireland within six months of opening, Ox and Finch retains their Bib Gourmand; for the 6th consecutive year; in the 2020 Guide.

It is the preferred choice for diners and reviewers alike.
Cuisine:
Small Plates

,

Fine Dining

,

Scottish

,

Vegetarian Friendly
Availability
Available Offers
This offer has price variations on different days.
View full details
.
Description
Available Dates
This reservation cannot be modified online. Please contact the restaurant directly to update this reservation.
Edit / Cancel Reservation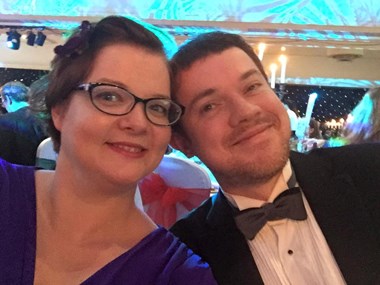 Review by Mark- of Food and Drink Glasgow
Along with the nearby The Gannet, Ox and Finch is the other Finnieston business to be propelled to the top of Glasgow's dining scene with Michelin Bib Gourmand recognition in an equally short space of time. If you went to the Street Food Cartel events at SWG3 you will have tasted the food from the Ox and Finch. At the restaurant they have gone with a cosy relaxed vibe with wooden décor, small tables and the feeling that you are in the middle of the action if you get a table close to the kitchen. There's an eclectic mix of food on the menu: rabbit, ham hock, foie gras and a pistachio terrine with gingerbread and pear to cite a few. The dining experience here is casual with the dishes arriving at your table when they're ready (and not in a specific course order), so tuck in and don't wait for your partners (or steal bits from their plate!) The rabbit and ham hock dish was foodie heaven, different textures as well as sweet and savoury flavours. Very tasty. Our next plate of squid, prawns, chorizo and morcilla with smoked paprika on sourdough provided a fishy but meaty in texture dish with a welcome kick from the paprika. With the parsnips and bacon plate we had roast parsnips, parsnip crisps and parsnip purée. The purée was rich and chestnut-like and similar to the first dish there was a good contrast of textures. The bacon was of good quality, well-cooked and a delicious balance of meat/fat. Next up: braised pork cheeks, smoked polenta, capers and pine nuts. The meat was so tender that it fell apart. The Lightly smoked polenta was infused with a fruity taste thanks to the jus. Perfect comfort food. And now for the star of the show in our eyes. You must try the Confit duck. It comes with Thai yellow curry and crispy rice with some sliced lotus root crisps on the side. The confit had a delicious crisp skin and tender meat and the rice - crisp on the outside but soft in the middle. Overall a luxurious mix of rich meat, crispy rice and lotus root texture and fragrant, creamy yellow curry flavours. By the time dessert came we were stuffed. So pineapple Carpaccio, coconut ice cream, tarragon and lime sounded like it would be ideal for sharing. This sweet mix of tropical flavours came topped with sugary meringue sticks marinated in star anise and the gingerbread. Again, full of flavour with the right amount of sweetness to end a delicious meal. Overall, an excellent meal at Ox and Finch. Nothing was too heavy or over-spiced, and the food came out at regular intervals. The standard was high, as evidenced by their Bib Gourmand status and service was attentive despite being so busy. There are booths for groups of four and tables for couples. Booking was extremely easy through ResDiary, being able to select from an array of times available and the text message reminder service was a handy reminder for those of us who are a bit scatter-brained! Ease of booking: 5/5 Service: 5/5 Quality of food: 4/5 Quality of drinks: 5/5 Atmosphere: 5/5