Opening Information
Tue - Thur 11am - 11pm
Fri - Sat 10am - 11pm
Sunday 10am - 5pm
Monday Closed
About Manuka Kitchen | Fulham Road
Brunch: Pop in for a spot of brunch from 10AM Friday to Sunday and choose from Eggs Benedict, French Toast or Blueberry Pancakes to name a few.

Dinner: AA Gill favourite restaurant, listed in the Michelin guide for the past 5 years.
Availability
Available Offers
This offer has price variations on different days.
View full details
.
Description
Available Dates
This reservation cannot be modified online. Please contact the restaurant directly to update this reservation.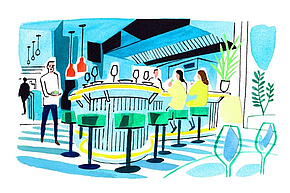 Table Talk: Manuka Kitchen, London SW6
William Burroughs said that the naked lunch was a frozen moment when everyone sees what's on the end of every fork. He says it right at the beginning of his novel. I read it a long, long time ago and it's the only thing I remember, but it was enough to take away. Opaque, profound — not quite a naked quote. I remembered it again when I read a report that a food agency has discovered that one-third of processed foods weren't what they said they were. They were more or sometimes less than they boasted. The sausage on a pizza was chicken and mechanically recovered beef. Herbal teas were neither herbal nor tea but some banned slimming drug. This is on top of all the things that they tell you is already in your food, but you don't have any idea of what they actually are or what they do or why; emulsifiers or colourants or flavour enhancers, stabilisers and preservatives. This won't come as a surprise to half of you, the Notting Hill-ish half. You already think processed food is the work of immoral scientists and snake-oil salesmen. You already assume it's all going to give you cancer or deformed babies, make your erections wither, and your skin flake. You think that the other half of the population are ignorant diabetics with arrhythmic, gullible hearts, who believe advertising and trust supermarkets, and that you, the savvy, sceptical half, only eat organic, sustainable, source-assured, farm-fresh, barely washed nonchalantly packaged, wholesome stuff with nowt taken out, as they used to say about processed, steamed, mass-produced bread. But you see, you, you smug, knowing folk, you're utterly wrong. The truth is exactly the opposite of what you think. Organic, free-range, line-caught, sustainably sourced is all advertising schmalz, a device to merchandise fear and false promises and generally outright lies. You are more likely to be poisoned by your collective allotment veg basket delivery than you are by the weekly supermarket shop. What you can say for mass-produced food is it is amazingly, astonishingly dependable and safe but also byzantinely complex, and a lot of it isn't really very nice to eat but it's cheap and it's predictable. Food doesn't exist in a cultural vacuum. It is always prone to the fears, hopes and truisms of the society it feeds, and we are living through a moment that yearns for transparency. We want to know the truth about everything, but we want it to be a simple truth, a straightforward truth. We value binary honesty and that's what we want from our breakfast. Most of the stuff we eat was conceived in a time when we admired things that seemed to be sophisticated, multi-faceted, complex, nuanced and complicated. If you look at 18th-century food, it's full of stuff pretending to be other stuff. It's packed with jokes and tricks, it's decorated with myopic attention — most people's lives then were quite simple; they understood the workings of everything they came across. Their jobs were repetitive, their lives short, their pleasures primary. What dinner could supply was a mystery, a sleight of hand, edible baroque. Now every restaurant menu I pick up talks about simple construction and honest ingredients and paring down and deconstructing. We are hungrily in search of the naked lunch. Manuka Kitchen is a very good example of the self-explanatory fork. A small restaurant down the un-French, un-Russian, un-bankery end of the Fulham Road. I heard of it from a visiting Australian, who complained about how dreadful London's coffee was and I asked him if he'd found anywhere for his morning flat white and he said Manuka, down the real end of the Fulham Road, and named after the New Zealand honey. So I went and have been back half a dozen times. It does do a very good flat white but also has a disarmingly simple menu that seems to be constructed around things that people want to eat. The room can only accommodate about 20 souls. It's not in an area that can charge high prices for high-value ingredients, so they do a prosaic brunch that has the best eggs Benedict I've found in a while, a light and generous stack of pancakes that my kids inhale, corn fritters with bacon chutney and sour cream, poached plums with yoghurt and roast cashews, avocado sat on mint bruschetta. There's also a simultaneous lunch menu with bone marrow and saffron arancini, crispy squid with black lime sauce, carrots and red quinoa lentils with ash-rolled goat cheese and pine nuts, slow-cooked duck leg with spätzle, roasted cauliflower and pine nuts, potato gnocchi, confit of tomatoes, basil and endive, and for pudding there's a very good chocolate pretzel-and-peanut-butter tart. All the dishes are named by their ingredients alone. You're probably so used to this by now you don't notice it, but they used to be called things like veronique, or melba, caprice or chasseur. Plates had titles and aspirations; now they have simplicity and transparency. It's what we want because we're frightened and mistrustful. And that's fine. Food fashions wax and wane, and I'm happy to sit through this period of Quaker austerity and plain-mouthed cataloguing of ingredients, but I can't say I don't miss a little mystery. A bit of élan and sleight of hand and perhaps just a twist of snobbery and insincere flattery wouldn't go amiss. I like Manuka Kitchen for its food, but more I have a great affection for the feeling in this room. There were lots of women eating with each other, a few on their own, and a smattering of babies. I like children in a restaurant, they're like the canaries down mines, an indication it's safe. Mothers are careful about what they poke into their kids, and women, together or singularly, make public spaces comfortable, safe and friendly. I had brunch there with my kids and the Blonde. Outside, the football fans marching to Chelsea were cranking up their testosterone, bellowing, swaggering and chewing on nameless burgers. Inside it was calm, warm, well fed and girlie, and so me. I've got a couple of lines left, so let me commend an even smaller coffee bar just round the corner called Shot on Jerdan Place, a street off Fulham Road. It's really just a counter, a bench and a couple of obsessive baristas and really, really good coffee.