Opening Information
Wednesday to Saturday 12pm - 10pm
Sunday -Tuesday Closed
Facilities
Private Dining
Business Lunch
Gluten Free Available
Free WiFi
About Hugo's Restaurant
We have a huge bias towards locally sourced ingredients and a dedication to fresh and imaginative food. Our head chef Peter Byrne leads a keen and innovative team who are eager to prepare for you the very best ingredients which Ireland has to offer. Our wine list is worldly and extensive. These elements are married with smart professional service, brought by a long serving, but young, full-time team both front and back of house.
Cuisine:
Contemporary

,

Bistro

,

Irish

,

Wine Bar
Dress Code:
Smart Casual,Business Casual
Availability
Available Offers
This offer has price variations on different days.
View full details
.
Description
Available Dates
This reservation cannot be modified online. Please contact the restaurant directly to update this reservation.
Edit / Cancel Reservation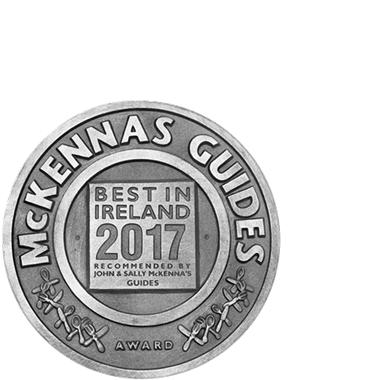 Gina Murphy and Maggie Roche together form a mighty two-hander that powers the food and the mood of Hugo's Restaurant
What's more important to you in a restaurant: cutting-edge, or comfort? In the media, it's no contest: cutting-edge wins out, everytime. Reviewers never stress the comfort of a room, or its cooking. We write about the guys who move fast, and break things, and who ask you to sit on an orange crate while they are at it. But comfort has a beguiling beauty. Take Hugo's Restaurant, for example, on Merrion Row, just off St Stephen's Green. It's a beautiful room, precisely because it is so comfortable. It expresses the restaurantness of a restaurant – the welcome; the lighting; the uniforms; the attention to detail – and, by doing so, it makes you feel incredibly comfortable. Walk in the door, and you relax immediately. They have you at "Hello." But comfort isn't all Hugo's offers. Owner Gina Murphy, and chef Maggie Roche, are two exemplary talents. Ms Murphy could run the country single-handedly, and would do a good job while she was at it. But it's to the benefit of the capital that she has run Hugo's with ease and assurance for a decade now. In the kitchen, Ms Roche shows that she shares Ms Murphy's pernickety devotion to detail. You can see that in one detail in particular: the jus that animates several of her dishes. Start with scallops with braised chicken wings, and it's that chicken jus pooled around the plate that fires up this lovely dish. The same sweet, sticky, comforting note is struck with her dish of stuffed saddle of rabbit with tarragon, kidney and liver. In and around the wild mushrooms and peas and pea shoots is another animating jus, perfectly complementing the precisely rendered rabbit. This is complex cooking – the amount of graft in a dish like this, or in the vegetable pithivier, is formidable – and yet what strikes you about the dish is its comforting sweetness, and how joyful it is to eat. Ms Roche cooks the right food for the right room. Hugo's is an homage to the classical idea of a restaurant, and Ms Roche's food, with its beignets, its Café de Paris butter, its Tournedos Rossini, is an homage to the classical school of European food. But her brilliance lies in the fact that every dish feels modern, contemporary and Irish, despite the deep historical background. She's learnt the rule book, but then she's torn it up, and made the dishes her way. She is cooking marvellous, comforting food in a marvellous, comforting city restaurant. 6 Merrion Row, Dublin 2