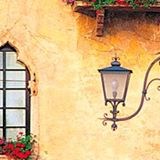 About Don Giovanni Ristorante Italiano & Wine
The Nardone family originally is from Rocca d'Evandro, Italy.
Rocca d'Evandro is a small town in the Province of Caserta in the Italian region Campania, located
about 90 km northwest of Naples. The castle, which the village was built around, appeared around the 10th century.
In the 14th century it was acquired by the Abbey of Monte Cassino and in the
early 16th century, it was a fief of Ettore Fieramosca.

Giovanni Nardone started a food and wine business when he and
his family came to Seattle area in 2000. It started with Nardone Wine, LLC in 2000 and expanded
from there. We import the finest food and wines from Italy. We cater to the finest dining
restaurants in and around the Seattle area.

While we are new in Auburn, we are not new in the Italian way of life or traditions. We
try to incorporate our way of life and Michelina's homemade recipes in our new restaurant and
our menu. As a family-owned and run business, our third generation is thriving and growing. Giovanni and
Michelina raised two sons and two daughters and have an inspiring 4th generation to continue the Italian tradition.